There's a new leader in town at Atwater Brewing and she is excited to be back in Michigan
By Karl Klockars
October 12, 2022

3:36 pm
If you happen to see a woman in a Detroit dive bar sipping a bottle of Atwater's Dirty Blonde or Vanilla Java Porter, that might very well be the brewery's president, Katy McBrady. "I don't know if there's like a barstool in Detroit that I haven't sat on at some point," she says. "[Atwater is] a light-hearted brand…anywhere where folks are like having a good time, we want to be in the fun spots."
The 34-year-old Downriver native and Central Michigan University grad was just named a Crain's Detroit 40 Under 40 recipient as she solidifies herself in her role as the leader of one of Michigan's oldest and largest breweries. McBrady cut her teeth working in the Michigan beer sales business before heading to Los Angeles for the better part of a decade, serving in a leadership role at Angel City Brewery and VP of Sales for distributor Classic Beverage.
McBrady wanted to be back in the Midwest, however, and fought tooth and nail to get back to Detroit. She came onboard as Atwater's president in March 2022, a little over two years after MolsonCoors acquired the company through their craft conduit Tenth & Blake.
Atwater currently distributes beer to five states around the Great Lakes and has plenty of runway to grow in Michigan and beyond. How has the first six months of her tenure been? What changes has she made and what's her plan for Atwater's immediate future? We sat down with McBrady to find out.
MBT: You really fought hard to get this position. What did you do to get your foot in the door at Atwater?
KMcB: I've been interested in Atwater for years, and I've always had an aspiration to come back to Detroit. And I'm a huge craft beer fan, right? So being able to combine the two things I love the most—this is a big opportunity for me.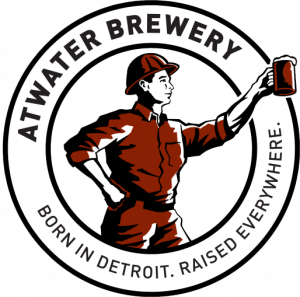 So, when the role came up, I worked my network pretty hard. I called everyone I could find who was even with Atwater at Molson Coors. I called people I knew in the distributor network. Back in Michigan, I really reached out to about every single person who I felt could be helpful and made sure that I was understanding like one the scope of the role and what it would look like, and then making sure that I was really setting myself up for a productive interview with as much information as possible.
MBT: When you were making those calls, were you also thinking about what kind of skills you might need to take over like the President's chair? Were there things you didn't know, but knew you needed to know, before you landed the gig?
KMcB: Managing a distributorship, for folks who aren't super aware of the intricacies of that, is largely an operations job in and of itself. So, in principle, I felt that I had enough knowledge on all of the different areas that I would need to be knowledgeable in to take the role. Because I think like when you take on a leadership role, it's about the team that you build around you and their capability, right? So, it's making sure that I'm finding the best and most qualified people to run each of the departments that we have here at Atwater. We have an absolutely wonderful team here.
MiBrewTrail: You've been in the President's office for about a half a year now. How's it been so far?
Katy McBrady: It's been great. I'm excited, I'm learning a lot. It's been great to get to know the team, [and] to reinvent myself in the Detroit community after about 10 years in Los Angeles. Absolutely no complaints on my end. In fact, I might be having too much fun. It's been really wonderful.
MBT: Do you feel like you've fully acclimated to this new role, and also acclimated back to Detroit?
KMcB: I'm getting there. Anytime I start a new job, I really take like the first 90 days just to observe what everyone's doing, to observe the way the business runs. And just to make sure that I fully understand. I think there's a lot there just about like being understanding and compassionate and understanding that as a leader, you don't do everything. So it's important to understand the building backs lacs of the organization that you've inherited.
MBT: So, from where you were six months ago walking in the door to where Atwater is now, what kind of tweaks have you made?
KMcB: I think one of the things I immediately noticed was just, a ton of potential. We had a bunch of unused tank space. So immediately, like my head jumps to, "Okay—we should be able to like increase capacity on site." Now some of that comes with upgrading some of the equipment that we have just to maximize that capacity. But that was really the first thing that I saw that I was like, okay, this is good. We have room."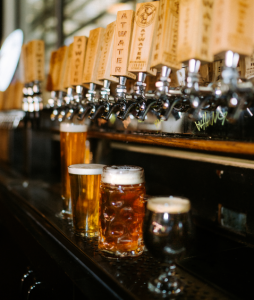 MBT: Talk to us about your history as like an Atwater drinker at large. There aren't a lot of 25 year old breweries in the country—was Atwater beer on your radar back when you were in Detroit or going to school at CMU?
KMcB: For sure. I've been a huge fan of Atwater since I got into craft beer. [Former owner] Mark [Rieth] and I have known each other for over a decade. I've chased him down for a job more than once before I ended up in this job. This opportunity has been on my radar probably since I was about 22. Like everyone who enters into the Atwater franchise, the first beer I tried from Atwater was Dirty Blonde, and I've grown to love like the rest of our portfolio. My current favorite is City Juice [Hazy IPA], but yeah, Dirty Blonde is what brought me in.
MBT: You mentioned this wasn't the first time you hit up Mark for a job. What was that first gig you were angling for?
KMcB: Probably about five years ago, I was looking to relocate back from Los Angeles to Detroit. He posted a director of sales role, and much like this one, I aggressively like pursued him—like, via LinkedIn, I got a hold of his phone number, I think he was like, "Is this lady like a bill collector?"
At the same time as I was chasing Mark down for that opportunity, I was offered the role to be the VP of Sales and Marketing for [distributor] Classic [Beverage] out in LA, and there isn't a tremendous amount of women distributor operators. So that just seemed like an opportunity I couldn't pass up at the time. And ultimately, had I not taken that job, I wouldn't have the skill set that I need to do the one I'm doing now.
MBT: At that time, Atwater was an independent brewery. Now it's under the MolsonCoors banner. As someone who's spent her career working under their umbrella, what's it like operating within the Tenth & Blake ecosphere?
KMcB: We're part of the Tenth and Blake family, but we operate very independently. We operate like a standalone business that works with those guys. So, the relationship that we have with Tenth & Blake is great because it provides me a really close network of brewers nationally who I can talk with share best practices with. Talk about new hot varietals. We're talking about like experimental yeast. There's this wonderful book of knowledge and guides who have been doing it for a really long time. But they also give us the freedom to really operate as an independent business and retain our identity. So, it's pretty special.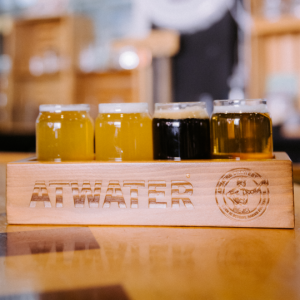 MBT: In terms of ratios, how much of your business is Dirty Blonde, how much is Vanilla Java Porter, and how much is the other one-off and seasonal lines?
KMcB: The dichotomy of the state is a very interesting thing. So, the west half of the state tends to lean a little bit heavier on the Vanilla Java Porter side, and the east side of the state leans a little bit heavier on the Dirty Blonde side now. Dirty Blonde is the number one selling blonde ale in the state of Michigan and has been for quite some time, and that represents roughly 70% of our overall business.
Vanilla Java Porter, which is 16 years old, represents about 15% of our business. So, from there, the long tail of our portfolio makes up that remaining 15% with POGalicious Tropical IPA being our third largest SKU, followed closely by City Juice Hazy IPA. We do think though, once we can mitigate some of the out-of-stock challenges that we've had on City Juice, that that should be our number three selling beer.
MBT: What's your five-year-plan for Atwater? Are you hyper focusing on Detroit, or looking statewide or even regionally?
KMcB: That's a great question. If I look at where we've been, historically we've expanded and contracted. I think in 2023, what you'll see is a hyper focus on Detroit and the things that make Detroit special but are also translatable across the state. So, you'll see us double down on our partnership with the Tigers and really blow that up both in-stadium but also at retail, which obviously translates across the state.
You'll also see us get more heavily entrenched in the community, but not just the Detroit community. We're working on partnerships in Lansing and some partnerships in Grand Rapids as well. And then the big thing that you'll see us doing is really getting involved like philanthropically. We have tap rooms in Detroit, Grosse Pointe Park, and then in Grand Rapids, and one of the things that we looked at was doing charity-tap programs where we donate proceeds from every pint sold during a month to a 501C3 charity partner.
MBT: What's your favorite part of the job so far?
KMcB: My favorite part of the job absolutely is our team here. When I think about Detroit and [its] grit and resiliency, we have a team here of just like problem solvers and hard workers and just like totally like creative, wonderful individuals. I truly get up, out of bed, excited to come into work. I'm excited to talk to the team. I'm excited for like the ideas that they bring to the table. It really is a very cool thing.
MBT: It's a rare opportunity to get to sit at the helm of a 25-year-old American craft brewery. From where you're sitting, are you planning on sticking around and make it to Atwater's 50th?
KMcB: I hope! Yeah, I love it here. It's funny, our Director of Operations who came to us from the fermentation program at CMU was asking me that the other day. My intention is to stay. I love Detroit. I love craft beer. It is rare to have this opportunity. If I had to think about doing what I love, this job really encompasses all of it.
Atwater Brewery
DETROIT
237 Jos Campau
Detroit, MI 48207
GROSSE POINTE PARK
1175 Lakepointe St.
Grosse Pointe Park, MI 48230
GRAND RAPIDS
201 Michigan St. NW
Grand Rapids, MI 49503