Dog & Pony: A Thoroughbred Brewery
By Jon Becker
March 9, 2023

8:04 pm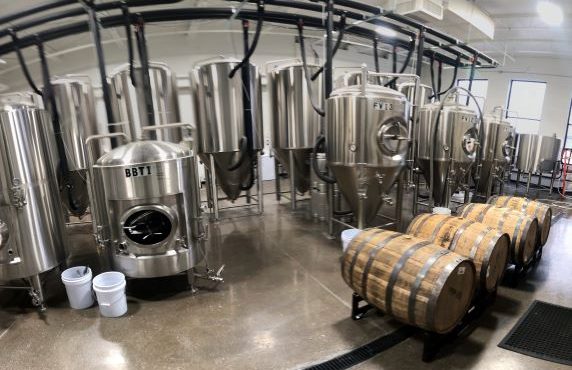 Dog & Pony Show Brewing, a family-run operation that became Oak Park's first craft brewery when it opened its doors in June 2021, has quickly become a centerpiece of an up and coming downtown district in the 11-mile corridor.
The brainchild of brothers Kyle, Aaron and Josh Gierada, Dog & Pony is located in an old tool and die building that they repurposed into a 7,000 square foot business. The plan is for the upstart business to continue to grow and evolve as a staple in the revitalized community for many years to come. The once-dry community of Oak Park now counts Dog & Pony and another brewery, Unexpected Craft Brewing, among the many new businesses that have set up shop in this northern suburb of Metro Detroit. The Gierada brothers are happy to be part of an increasingly attractive business and social scene.
"The city has been working hard to make it a viable downtown," says Kyle Gierada. "Initially this was solely an industrial area. Now we have 2 restaurants, 2 breweries and other businesses that have made Oak Park their home."
When Brew Trail caught up with Kyle Gierada on an overcast late November day, he was enroute to Traverse City on company business.
"We're picking up some cider juice," he explained. "We get our apples from Traverse City."
As 2022 winds down, Gierada took a moment to reflect on a Dog & Pony Show that has made quite a mark in a short period of time.
"It's been a really fun year overall," he said. "We learned a lot. We accomplished our goals. We were true to our mission of giving back to the community that supports us. We upped our production and popped out 500 barrels, which is pretty good. It's been a good year across the board."
One of the charities the community-minded brothers and their breweries support is Forgotten Harvest. This Oak Park food rescue organization is dedicated to feeding the hungry in Metro Detroit. Dog & Pony also supports its neighboring community of Berkley through its involvement with The Berkley Dad's Club, a volunteer nonprofit recreational youth baseball organization.
"We raised money through one of our beers to help build a baseball field," Gierada said. "We also support a local dog rescue organization, Do Only Good (DOG). We're one of the sponsors of a 5-K road race fundraiser this weekend."
The Gierada brothers aren't ones to toot their own horn, so Brew Trail will do it for them. They've only been in business since June 2020, but they have already laid claim to a Best of Show Beer Award. Dog & Pony galloped away with Journey Distillery's top prize at its annual festival of small-batch brews. The Barrel-Aged Brewfest attracted dozens of breweries, wineries and cideries to vie for the coveted Golden Barrel Trophy.
"I think this is the 6th year of the friendly competition," Gierada said. "We took home the gold in Best of Show with our Barrel-Aged Barley Wine that is rested on vanilla beans and aged in journeyman barrels. There were probably about 40 breweries there. It's nice to know that others like the same beer we do."
It's rather remarkable how much of a draw having a microbrewery in your community can be. The Gieradas have found that out first hand. Dog & Pony is part of what the brothers call a fun and unique area to be located in, one that attracts a variety of people of varying ages.
Younger couples, many of them first-time homeowners beginning to start a family, have flocked to the new microbrewery.
"We get a lot of 30-somethings," Gierada said. "We've even met people who were going to sell their homes and move only to see Dog & Pony and other establishments pop up that are creating a community they want to grow with as well. We get quite a mix. We see younger groups coming in here all of the time. They and their parents love our beer."
Business, said Gierada, is pretty steady year-round.
"During winter people tend to come in earlier, especially on weekends, but we've been fortunate to stay pretty consistent throughout the year."
Dog & Pony typically has 12 beers on tap, but currently is offering 16 flavors. It attempts to time its production so it can offer more barrel-aged beers during the cold-weather months when there tends to be more of a demand, for say, their Bourbon Barrel Aged Barleywine 2022 or an Old Fashioned Xmas, an Imperial Stout.
Looking ahead to 2023, "We'd like to purchase a canning line to continue to grow our brand," Gierada said. "This would be a big step toward reaching our 1,000 barrel goal and help us dabble in distribution."
The brothers encourage folks to follow Dog & Pony Show on social media and sign up for its newsletter on its website, www.dogandponyshowbrewing.com to keep abreast of happenings, new releases and other developments.