TOAST OF THE TOWN: North Peak offers a Switchback to crushable summer brews
By Dave Clark
April 14, 2023

1:37 pm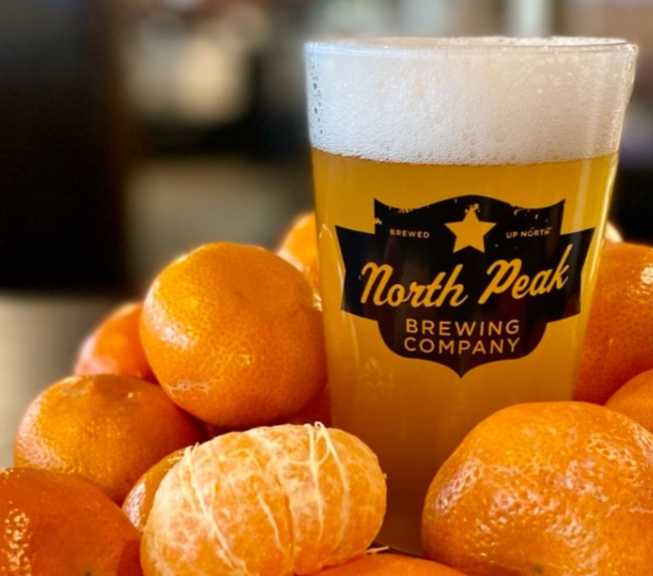 Feeling that glorious sunlight on my face, as the warm wind breezed through my hair, I finally allowed myself to believe that the change of season is upon us.
It's also midway through April, so it's about time for some Spring before we suddenly welcome Summer.
After Oberon Day, (March 20 to civilians) it's also time to start looking beyond the Winter Warmers and heavy, aged-in-bourbon-barrel fare for something … sunnier.
Enter North Peak Brewing Company.
Let's take a "Sneak Peak" at their latest offering before it hits stores – "Switchback Clementine Wit," the delicious addition to their year-round lineup.
Brewed with Michigan Cascade and Mandarina Bavaria hops, this effervescent white ale features zesty notes from lemon peel and sweet orange peel. Clementine puree gives it a bright sweetness that is refreshing and unique.
What are we looking for in a white ale? Glad you asked.
Let's take some direction from Jeff Alworth's "Beer Bible" and sharpen our wits.
White ale often goes by its more traditional Belgian moniker: the wit or witbier, a low-alcohol wheat beer flavored with spices, orange peel and coriander. You may recall our adventure with another witbier – the golden goodness that is Midland Brewing Company's hefeweizen. Switchback has many of the same qualities of the hefe, including its cloudy appearance and its easy drinking appeal.
If it's not already clear, Switchback fits squarely in our Beer Flavored Beer category, and is a satisfying example of the wit style. It's citrusy, but not too hoppy or sour. Most importantly, it's a thirst quencher – low in alcohol, big in flavor and it will be absolutely crushable during those long, hot summer days that are in our near future.
Cold and refreshing right out of the fridge, it hit the spot with a nice orange tang. Letting it warm to room temperature allowed the spices to better blend with the orange puree and softened its finish.
No matter how you serve it up, it delivers. The same can be said for North Peak. With locations in Traverse City and Dexter – and someday soon Bay City, located across from The Nut House – North Peak flies a bit under the radar compared to its bigger competitors. But they have consistently cranked out great, traditional brews, such as Diabolical IPA and the new fruit variation, since 1997 along with delicious food.
With Switchback, they've concocted a sweet treat that has the potential to become Michigan's Beer of the Summer.
You may be tempted to wonder if this is simply North Peak's take on Oberon, the seasonal wheat beer that has come to mark the beginning of Spring in Michigan. Not so fast. In my side-by-side comparison, Switchback offers a sweeter, lighter experience whereas Oberon drinks heavier with a bit more malt, and wheat-bread character.
Both brews are great. The biggest difference is that we will be able to enjoy Switchback all year long.
And I plan to.
A Switchback trail is one that doubles back on itself, according to the narrative provided by our friends at North Peak. This results in a longer climb, but one that is rewarded with a view that is worth the extra time and effort.
Switchback Clementine Wit is a fitting reward for all that we have endured during this long, cold Michigan winter.
We deserve this. We earned it.
Time to enjoy it.
Look for it in stores in the days ahead
Sköll!