Cedar Springs Brewery: A Fusion of German Hofbräuhaus and Local Spirit
By Brenda Marshall
August 18, 2023

3:14 pm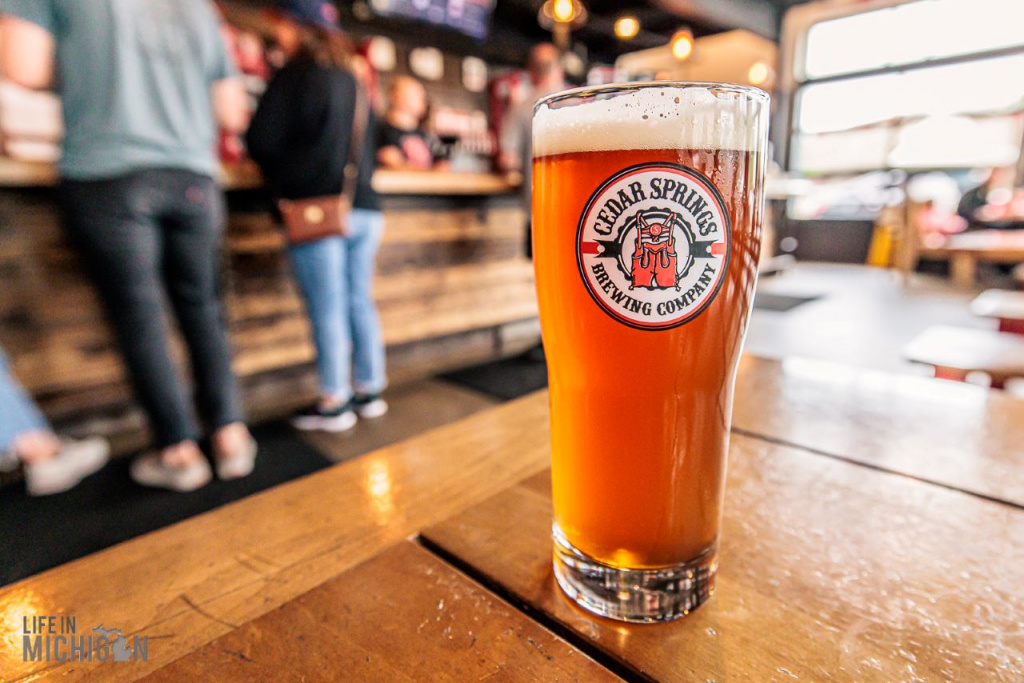 What started with as a modest vision now stands a testament to chasing a dream with Cedar Springs Brewery.
Now known as the director of happiness at Cedar Springs Brewing, David Ringler effectively merged the ambiance of a German Hofbräuhaus with Cedar Springs' lively local spirit. With the new Kusterer Brauhaus in Grand Rapids, this fusion of cultures invites guests for more than just beer — it's an immersive cultural experience.
Cedar Springs Brewing Company is on Main Street in Cedar Springs, Michigan, while the Kusterer Brauhaus is in Grand Rapid on Bridge Street.
Central to Ringler's ethos is Gemütlichkeit, the German word encapsulating warmth, friendship, and comfort. He wanted to infuse this feeling into Cedar Springs Brewing, a sentiment rooted deeply in his heritage and reinforced when he lived briefly in Germany.
"I was born here (in Cedar Springs), and I wanted to share that with my home, and I wanted my friends to experience that too," Ringler explained. "So, for me, it was always trying to bring in some of that culture and that feeling (Gemütlichkeit). The original vision was smaller than this. It was going to be a little beer hall closer to what you'll see at the Brauhaus."
Ringler built Cedar Springs Brewing out of sheer love for a particular type of beer, the original Weissbier. It is a traditional wheat beer. The color is deep, auburn, or brick color and is surprisingly cloudy.
"It's served hazy," he said. "We also joked that this was the hazy beer before hazy was cool."
"I have a couple of friends that have breweries in Bavaria and a handful that still make this beer," Ringler shared. "Even in Munich and Bavaria, this style is rare."
Most breweries there stick to producing a pale Weiss beer or Dunkelweizen. Only a select few continue to craft this specific old world beer, which he modeled his after.
The checkered flags and awning on the outside of Cedar Springs Brewing catch our eye; you can't miss it. The motif is carried on inside with the red and white checkered flags hanging throughout the Cedar Springs Beer Hall. Even the tap handles sport a red and white checkered pattern.
Cedar Springs is home to the Red Hawks and the Red Flannel Festival. Even the street signs show off their affinity for red.
"And so we just took the red and white and said, okay, we're going to make that ours," Ringler said. It is modeled after Bavaria's flag with the blue and white checkerboard.
"And now I have one of my originals for you," I heard the acoustic guitar singer say before he started to sing, "Rocky Mountain High." Maybe it was the Gemütlichkeit, the song, or the joke the singer just made, but I was smiling.
The bar dominates one wall of the Cedar Spring Beer Hall, while the other walls are windows, giving you the feeling of being in a large outdoor space. You'll find European-style communal tables, where you might arrive as strangers but leave as friends. Ringler passionately shared the German beer hall custom, where camaraderie is the order of the day, and the joy of spontaneous conversations lights up the atmosphere.
"That's one of the cool things about the German culture and one of the things that we try to do here," Ringler said. "It's been neat to see that evolve here. When we first opened, people would be like, you want me to sit at that table? There's already… No, no, no, just sit down. They'd have a beer, and they'd say hi. And the next thing you know, they're talking."
Stammtisch is a tradition of regulars, and Cedar Springs has embraced it. In the Bavarian Beer Hall, you'll find a decorated table they use for their mug club. Traditionally, these tables were marked with distinct items like a large ashtray or a unique lamp, signaling a Stammtisch. Every local knows you don't occupy such a table unless invited.
The Stammtisch table will also have a sign indicating reserved times for specific groups. It could be coworkers, a biking club, a chess club, or a school group. They gather at these designated times, always assured that their table awaits.
Ringler is part of a Sunday Stammtisch in Germany. They meet reliably every Sunday, dressed in their designated attire.
"If you look closely, you'll see a small Stammtisch sign on the table," Ringler said, sharing with us a picture. The picture was taken during one of his visits to Germany when he introduced Cedar Springs beer to his German friends.
"What did I love about those Bavarian halls and the beer gardens?" Ringler asked rhetorically. "It was going and sitting at a table and talking to people. And it was, I mean, this was before social media. That was social media. How did you find out what was going on? You sat at the Stammtisch, and you talked to people. Whether you want to call it gossip or whatever, but you know, people talked about what was happening and what was going on."
The Kusterer Brauhaus opened in 2022 and is a tribute to Grand Rapids pioneer Christoph Küsterer, the original German brewer in West Michigan.
I was fascinated as Ringler recounted Christoph Kusterer's story. Küsterer immigrated through Ann Arbor from the Black Forest; he was a professional brewer. He arrived here in 1844, and he founded a brewery in 1847.
He was the first professional brewer and grew to become the largest, most prominent brewer in West Michigan. He, unfortunately, died in 1880 in the sinking of the Alpena in Lake Michigan. His brewery was called City Brewery, and his sons took over and renamed it the Küsterer and Sons Brewery. They were still the largest, most prominent in the city. And then, they merged with five other German brewers in 1893 to form the original Grand Rapids Brewing Company. That was huge by the eve of Prohibition. They had a capacity of well over a quarter million barrels. But the family completely divested during Prohibition.
Cedar Springs Brewery wanted to connect with the Kusterer legacy.
"They were the first German craft brewer," he said. "Küsterer was the first German brewer. And so, we wanted to have that local region connection. And so our entire German lineup of beers are all Kusterer beers."
Kusterer Brauhaus is intended to be a mini Hofbräuhaus, where it's a beer hall with a little deli and a snack bar. The inside offers a variety of seating and big Stein lockers for mug club members.
"We have a small three-barrel system down there where we do some experimental beers," Ringler added.
Schmeck Gut is German for tastes good; you'll see it on the back of Cedar Springs Brewing t-shirts. Recently Ringler was asked about it at a local breakfast restaurant and recounted the story; the guy was surprised. He'd never heard of Cedar Springs Brewing. He had been stationed in Germany during his service. Curious, he asked if they serve schnitzels and Weiss beer, to which Ringler replied, "Yeah, of course, we have that."
It's fascinating how such interactions help build a sense of community.
"People get stuck in their ruts, and they do their own thing, and sometimes when you change it around, you sit them at a table with somebody they don't know," he said. "You get them out of their paradigm, and suddenly you open up worlds, and you start to create a new experience."
On Michigan's West side, nestled between the traditional and the contemporary, Cedar Springs Brewing and Kusterer Brauhaus stand as embodiments of David Ringler's passion. They serve as reminders that, sometimes, all it takes is a modest vision and an unwavering commitment to bridge worlds, brew stories, and foster communities that resonate with the warmth of Gemütlichkeit.